Recognized for achievements using online marketing tools to drive success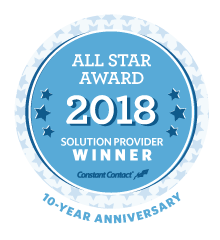 ASHEVILLE, NC — March 13, 2019 – Virtual Business Services along with Association Fundraising Professional Western North Carolina Chapter, have been named a 2018 Solution Provider All Star Award winner by Constant Contact, an Endurance International Group company and a leader in small business marketing solutions. The annual award recognizes the most successful 10 percent of Constant Contact's customer and Solution Provider base, based on their significant achievements using email marketing to engage their customer base and drive results for their organization during the prior year.
The AFP Western North Carolina Chapter advances philanthropy and empowers people and organizations to practice effective and ethical fundraising.
"AFP WNC has been a client since 2016. When I started with the Asheville area membership organization, the Board of Directors requested solutions for chapter technology woes with goals in mind such as improved marketing, website development, branding, and communication to membership. I am happy to be recognized by Constant Contact for achieving strong engagement results with AFP WNC members and affiliates. Constant Contact's tools, along with Blue Host (an Endurance International Group company) Virtual Business Services has helped this client accomplish what it set out to do- engage members in a brand consistent manner. Member feedback to Constant Contact's email system and registration software has been overwhelmingly positive. Membership and event participation have grown since its implementation with the member organization" says Julia Buchanan. 
Constant Contact Solution Providers are businesses that provide services tailored to the needs of small businesses or nonprofits—everything from web developers, to online marketing consultants, to advertising agencies and more. They use Constant Contact's online marketing tools to generate more business for both themselves and their clients. Criteria used to select this year's All Stars included the following during 2018:
Level of engagement with email campaigns
Open, bounce, and click-through rates
Use of social sharing features
Use of mailing list sign-up tools
Use of reporting tools
"Our Solution Providers are an invaluable extension of our business, helping small businesses and nonprofits that are seeking hands-on assistance with their marketing," said Hannah Budreski, Vice President of Marketing Communications, Constant Contact. "We're thrilled to recognize AFP WNC for their achievements in helping their members become better engaged."
About Association Fundraising Professionals
The Association of Fundraising Professionals Western North Carolina Chapter is a nonprofit organization that serves as a resource for all who raise funds to better our Western North Carolina community. Whether you are a fundraiser for a large agency or a small neighborhood group, we invite you to join us, as a member or guest, for our monthly activities. An inclusive group of professionals, we volunteer our time to help each other grow and succeed as fundraisers.
 
About Constant Contact
Constant Contact, an Endurance International Group company and a leader in online marketing for more than 20 years, offers an easy-to-use platform that helps small businesses create professional campaigns that can help increase customers and revenue. From advanced automation features to industry-leading integrations, to personalized coaching, Constant Contact is the trusted marketing partner of hundreds of thousands of growth-minded small businesses around the world. For more information, visit: www.constantcontact.com.
 
About Endurance International Group
Endurance International Group Holdings, Inc. helps millions of small businesses worldwide with products and technology to enhance their online web presence, email marketing, business solutions, and more. The Endurance family of brands includes: Constant Contact, Bluehost, HostGator, Domain.com and SiteBuilder, among others. Headquartered in Burlington, Massachusetts, Endurance employs over 3,800 people across the United States, Brazil, India and the Netherlands. For more information, visit: www.endurance.com.
Endurance International Group and the compass logo are trademarks of The Endurance International Group, Inc. Constant Contact, the Constant Contact logo and other brand names of Endurance International Group are trademarks of The Endurance International Group, Inc. or its subsidiaries.
 ###